Fulgor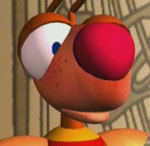 Fulgor is, essentially, the main character of the series. Adopted son of the Great Pyro, he and nobody else seems to know where he really came from, and this often gets him down. However, he is a generally positive and happy-go-lucky type of guy, often teasing his 'sister' Aelia and getting into mischief. His 'gallant steed' is a honking, horse-like machine named Gallopus who has been his best friend for as long as he can remember, and his other sidekick is Spotty.
Though not related by blood, his relationship with Aelia is sisterly by all means... though, when the Yuk prince Acylius shows interest in Aelia, Fulgor appears jealous and protective over her. How this can be interpreted is difficult, but later on he finally accepts Aelia and Acylius' relationship.
He loves music, so naturally, his weapon of choice, and instrument, is the Kolour Guitar; a guitar that has the ability to shoot pollen bombs/fireworks out the end of it. When hit with the pollen, the Yuks act all silly and are then considered harmless, thus is why its function also doubles as a weapon. At the Joyce festivals, Fulgor is always an active part in it; performing songs and fireworks displays with his guitar.
Later on in the series, The Great Pyro reveals how Fulgor came into his care; Fulgor was originally a Yuk, left anonymously with Gallopus in the Flower City when he was a baby. The Great Pyro didn't know who exactly left him there, other than the person was the Yuks' former engineer, who was now in prison. Without another thought, The Great Pyro happily took the young Yuk under his wing (bad pun) and raised him as a Joyce.
Then, MUCH later, you learn that his father was Eurekas; ashamed of his heritage, he wished for his son to have a better life with the species he wished he could have been; a Joyce. Fulgor is finally reunited with him at the end of the series. His mother, however, is unknown.