Lord Krabo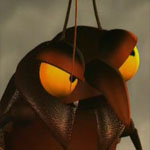 The most miserable one of them all, Lord Krabo is the third in line for the throne, and the Yuks's prime minister. Like the queen, he is demanding, always stressed, never happy and to top it all off, he has a very bad temper.
He makes a lot of the decisions in Yukdom and is usually the one who issues the commands when it comes to missions to Flower City. In addition to being the premier, he is also in charge of Prince Acylius, attempting to keep the young prince in line as well as being his tutor.
He hates the Joyces and everything they stand for. Slightly dyslexic at times, he can never seem to get Fulgor's name right ('Gofer' is a common replacement) and secretly, deep down, he is afraid of him. In reality, Krabo is nothing but a big coward and has openly admitted to being afraid of bright lights, colours, and most of all Fulgor! But, of course, he rarely lets that side show through and is admired by the Yuks, especially Kretinus.
His favourite saying is "I will have my revenge!" and commonly ends every episode with this phrase. He's also genuinely allergic to flowers and sometimes refers to himself as "We" instead of "I."